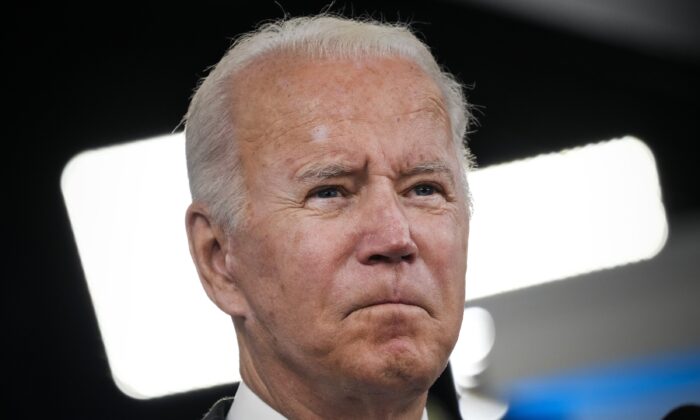 Several large business groups on Thursday said President Joe Biden's latest COVID-19 vaccine requirement was poorly planned and would burden employers during the holiday season.
mandate, announced by Biden in September, was released to the public for the first time on Nov. 4.
It requires employers with 100 or more employees—and, perhaps, smaller businesses—to secure proof of COVID-19 vaccination from workers or force them to get tested for the disease on a regular basis, at least once a week.
David French, a senior vice president at the National Retail Foundation, said retailers have taken "extraordinary measures" during the pandemic to protect employees and customers, including encouraging and mandating vaccination.
"Since the president's announcement of the vaccine mandate for private industry, the seven-day average number of cases in the United States has plummeted by more than half. Nevertheless, the Biden administration has chosen to declare an 'emergency' and impose burdensome new requirements on retailers during the crucial holiday shopping season," he said in a statement.
Michael Hanson, a senior executive vice president at the Retail Industry Leaders Association, said the deadline of Jan. 4, 2022, was disappointing because planning and implementation would fall "during the busiest part of the shopping season."
Hanson also said that retailers want to serve as partners in the push to increase vaccination rates but decried the fines threatened by the Department of Labor's Occupational Safety and Health Administration, which promulgated the mandate in an emergency standard.
"It pits government against private employers instead of working with them to create a safe working environment," Hanson said.
Large groups, including the association, had urged the Biden administration to allow at least 90 days for implementation.
National Federation of Independent Business is opposed to the standard, Karen Harned, executive director of its Small Business Legal Center, said in a statement. She said it "restricts the freedom of small business owners to decide how best to operate their own businesses and imposes unwarranted burdens on small businesses that further threaten the small business recovery."
Some other groups backed the standard, with several claiming it should have been stricter.
"Today's action from the Biden administration, while not going far enough, is a critical first step to keep workers safe on the job as COVID-19 dangers continue," Marc Perrone, international president of the United Food and Commercial Workers, said in a statement.
"While we are still digesting the details of the rule, initially we are encouraged by the compliance flexibility given to employers in the standard. We especially appreciate that the administration provided a longer compliance window and made the compliance dates consistent between the OSHA ETS and the federal contractor vaccine mandates," added Timothy Bartl, president and CEO of the JR Policy Association.
U.S. Chamber of Commerce released a statement saying that OSHA "made some significant adjustments" in the standard "that reflect concerns raised by the business community."
deadline was pushed back to align with the deadline for federal contractors that were already in place, deputy White House press secretary Karine Jean Pierre told reporters during a briefing.
"We wanted to avoid confusion," she said, later adding that the administration doesn't think the vaccination requirements will affect the already fragile supply chain.
standard drew multiple lawsuits just hours after it was unveiled but the White House maintains it will survive legal challenges.
Biden said in a statement that vaccine mandates are working to increase vaccination rates and claimed that they have not led to "mass firings" or "worker shortages," even though thousands of Americans have been confirmed by various companies as quitting or getting fired over mandates. Businesses and government agencies in multiple states have likewise had to curb services due to a shortage of workers as the mandate deadlines have kicked in.
"Despite what some predicted and falsely assert, vaccination requirements have broad public support," he said. "I'm calling on employers to act. Businesses have more power than ever before to accelerate our path out of this pandemic, save lives, and protect our economic recovery."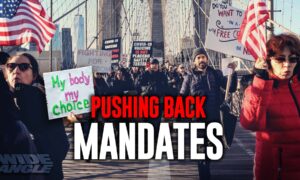 'I Feel Like This Is a Resurgence of Slavery': NYC Vaccine-Mandate Protester
10hr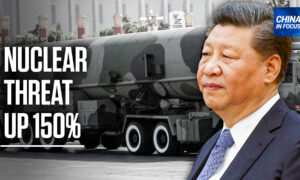 Pentagon: China Nuclear Threat Level Doubles
11hr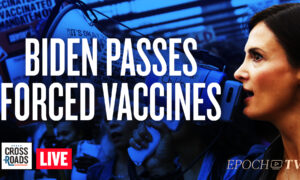 Live Q&A: Forced Vaccines Unveiled by Biden; China Tells Citizens to Stockpile Food
11hr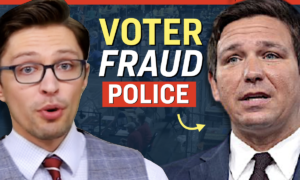 Facts Matter (Nov. 4): Governor DeSantis Pushes to Establish Election Police to Investigate All Allegations of Fraud
12hr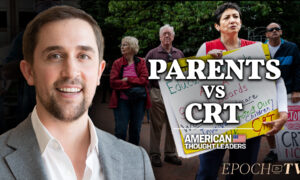 Christopher Rufo on Critical Race ory, a 'Bankrupt' and 'Elite' Ideology Subsidized by Public Dollars
13hr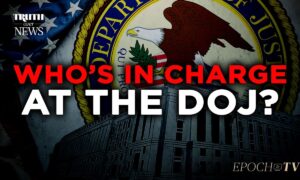 DOJ Does Not Appear to Be Run by the Attorney General | Truth Over News
15hr
Pezou : Several Big Business Groups Express Displeasure With Biden's Private Employer COVID-19 Vaccine Mandate