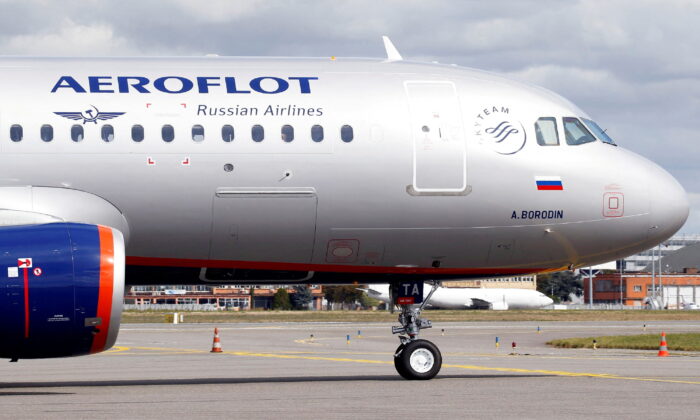 Russian airline Aeroflot said Monday that it will temporarily suspend all international flights starting March 8, following the onslaught of Western-imposed sanctions on Russia over its aggression against Ukraine.
Aeroflot said in a statement that the temporary suspension of international flights was brought about by "new additional circumstances impeding the operation of flights."
The airline stated that all domestic routes, as well as flights to Belarus, a Russian ally that has played a supportive role in Russia's invasion of Ukraine, will remain fully operational.
"Aeroflot, starting from 6 March, will stop admitting on international flights passengers holding return tickets with the return segment to Russia dated after 8 March 2022," it stated, adding that international flight passengers with one-way tickets will be accepted until March 8.
The move follows a recommendation by Russia's Federal Air Transport Agency, Rosaviatsiya, for all national airlines to curtail their scheduled international trips, citing "high risks" of planes operated by Russian airline operators being detained or arrested abroad.
The agency advised that national air carriers that lease aircraft to foreign corporations halt international flights beginning March 6 and put international flights on hold beginning March 8, Tass Russian News Agency reported on Saturday.
It also recommended all Russian citizens returning home from abroad use foreign airlines or transit through countries that have not sanctioned Russia, including Azerbaijan, Armenia, Kazakhstan, Qatar, the United Arab Emirates, Turkey, and Serbia.
S7 Airlines, Russia's second-largest carrier, has likewise halted all international flights in response to Western sanctions on Russia.
The United States has blocked Russian flights from its airspace, following similar moves by the European Union and Canada after Russia's invasion of Ukraine. Alaska Airlines has also suspended the "limited interline relationships" with S7 and Aeroflot.
The EU has indicated that it was in discussions with the United States to extend the ban. The EU decision to ban all "Russian-owned, Russian registered, or Russian-controlled aircraft" was announced by European Commission head Ursula von der Leyen on Feb. 27.
Russia has retaliated by banning airlines from 36 countries, including all 27 member states of the European Union and the United Kingdom. London had earlier banned Aeroflot from UK airspace.
Without access to Russia's airways, experts say carriers will have to divert flights south while also avoiding areas of tension in the Middle East. Recent flights from European and U.S. airlines to Asia have been forced to take major detours.
Naveen Athrappully and Reuters contributed to this report.
Original link : Russia's Aeroflot Suspends All International Flights Except to Belarus