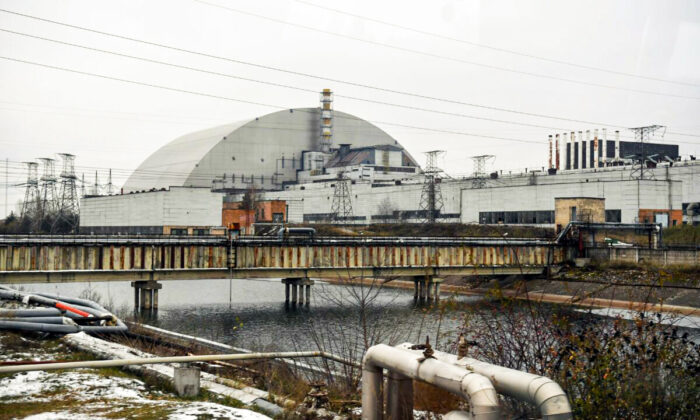 Ukraine says it has resumed the power supply to the Chernobyl nuclear power plant after it was seized by Russian forces in February, energy officials in Kyiv said Sunday.
A broken power line at the site was reportedly restored at 18:38 CET by the repair personnel of Ukrenergo, Ukraine's transmission system operator, meaning external electricity supplies to the plant can now be resumed.
Ukraine's Energy Minister German Galushchenko said in a statement that specialists from the national power grid had been able to successfully restore the connection.
"Today, thanks to the incredible efforts of (Ukrainian energy) specialists, our nuclear power engineers and electricians managed to return the power supply to the Chernobyl nuclear power plant, which was seized by the Russian occupiers," Galushchenko said.
"Our Ukrainian energy engineers, by risking their own health and lives, were able to avert the risk of a possible nuclear catastrophe that threatened the whole of Europe," he added.
The power supply to Chernobyl is used to keep running pumps that keep thousands of spent nuclear fuel cool, thus preventing radiation leaks.
Russian forces captured Chernobyl, which is located along the Ukraine–Belarus border and about 60 miles north of Kyiv, just days after invading Ukraine on Feb. 24.
Ukrainian officials told the International Atomic Energy Agency (IAEA) that power had been cut off from the plant on Wednesday and it had to use emergency generators.
Officials said that there was enough diesel fuel to run the on-site generators for 48 hours, while the IAEA said there had been "no critical impact" to safety after officials, including Ukrainian Foreign Minister Dmytro Kuleba, warned about a potential radiation leak overnight.
A nuclear accident at the Chernobyl nuclear power plant in 1986 killed hundreds and spread a radioactive cloud west across Europe.

The Ukrainian government warned that, just like in the previous Soviet disaster, the wind could transfer a radioactive cloud across Ukraine, Russia, and other parts of Europe.
On March 10, Ukraine officials lost all communications with the power plant, the country's regulatory authority informed IAEA, meaning that they could not provide IAEA with updated information about the site.
Ongoing fighting around the nuclear power plant has made it impossible to carry out repairs, the government said.
However, Russian foreign ministry spokeswoman, Maria Zakharova, told state-run outlets on March 9 that the site was operating as normal and that both Russian and Ukrainian specialists were jointly controlling the situation.
Zakharova also said that the Ukrainian government's allegations regarding a potential radiation threat were false.
"The actions of the Russian military in this dangerous situation were motivated by the necessity to prevent a nuclear provocation from Ukrainian nationalists, who seem to have nothing to lose. As a matter of fact, they have been trained to do it. That is why Russian troops are taking Ukraine's nuclear facilities under control," Zakharova said.

IAEA Director General Rafael Mariano Grossi said Sunday that the team of Ukrainian specialists had repaired one of two lines that had been damaged at the plant, meaning they would now be able to deliver all required off-site power to the plant.
However, Grossi expressed concerns over the future safety of the plant and has proposed a "framework" that would enable IAEA to provide technical assistance to ensure the safe operation of the plant.
Grossi said he has discussed the proposal with the Ukrainian and Russian Foreign Ministers Dmytro Kuleba and Sergei Lavrov, last week.
"This is a positive development as the Chornobyl NPP has had to rely on emergency diesel generators for several days now," Grossi said. "However, I remain gravely concerned about safety and security at Chornobyl and Ukraine's other nuclear facilities."
Original link : Power Supply Resumed at Chernobyl After Nuclear Plant Was Seized by Russian Forces: Officials