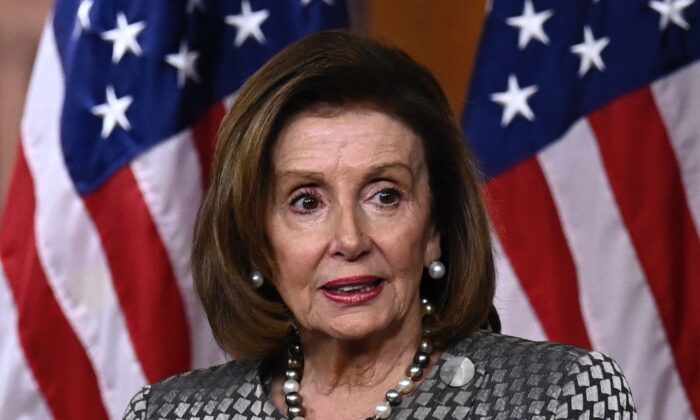 House Speaker Nancy Pelosi (D-Calif.) was among the U.S. lawmakers Tuesday praising President Joe Biden's decision to ban Russian oil and gas imports.
Biden "demonstrated America鈥檚 strength and determination to hold Putin accountable for his premeditated, unprovoked war against Ukraine," Pelosi wrote in a letter to Democrat colleagues, referring to Russian President Vladimir Putin.
"The Congress commends the president for announcing action to stop the import of Russian energy products into the United States鈥攚hich we will support by passing strong, bipartisan legislation to that effect today," Pelosi added.
Biden earlier in the day announced he was barring any imports of Russian crude oil, petroleum, and other energy products.
His executive order also bans new investment in Russia's energy sector.
Virtually all Democrats appeared to back Biden's move.
"We cannot continue to purchase millions of barrels of oil to help fund Putin鈥檚 war. This is another important step in tightening economic pressure on Putin and his cowardly enablers and helping the brave Ukrainian people," Sen. Dick Durbin (D-Ill.), the Senate majority whip, said in a statement.
"I applaud @POTUS taking steps this morning to ban American imports of Russian oil & gas," Rep. Steny Hoyer (D-Md.), Pelosi's deputy, wrote on Twitter.
The ban also drew support from many Republicans, though some had the view of it coming too late while most urged Biden to take action to ramp up U.S. energy production.
The Biden administration "must take steps to unleash U.S. energy production" because "if not, gas prices will continue to rise and we will be reliant on our adversaries for energy production," Sen. Jerry Moran (R-Kan.) said in a statement.
In a briefing just before Biden's announcement, House Republicans gathered to blame rising gas prices on Biden's decision to halt construction of the Keystone XL Pipeline and called on the president not to make deals for oil from Venezuela and Iran.
"We should not rely on our enemies or adversaries for our energy needs. Mr. President, it is time to put Midland over Moscow. It is time to unleash American oil and gas. It is time for our partners and allies to depend on us and not on Russia," Rep. August Pfluger (R-Texas) said.
Under the Biden administration, U.S. energy production has dropped.
The administration is so far refusing to lift its ban on oil and gas lease permits for federal lands, claiming the number of unfilled permits shows the move isn't linked to rising prices, while pinning the spike鈥攁 gallon of gas hit an all-time high on Monday鈥攐n the Russia鈥揢kraine war.
Republicans noted prices started increasing when Biden took office, long before the war started.
Original link : Pelosi Praises Biden's Ban on Russian Oil