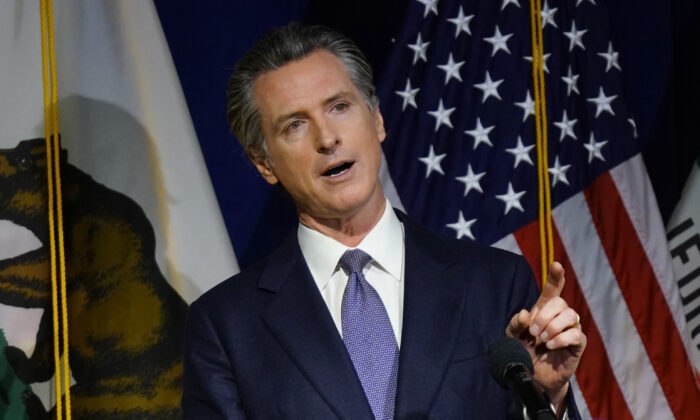 Californians could be set to receive a tax rebate in an effort to combat the soaring cost of fuel in the state, Gov. Gavin Newsom has said.
Speaking at his annual State of the State address on March 8, the governor said he is working with lawmakers to give money back to taxpayers to offset record-high gas prices in the golden state, which are among the highest in the United States.
"Look, no one's naive about the moment we're living in with high gas prices and the geopolitical uncertainty that's fueling them," Newsom said. "In January we proposed to pause the gas tax increase. Now, it's clear we must go further."
"That's why—working with Legislative leadership—I'll be submitting a proposal to put money back in the pockets of Californians, to address rising gas prices."
The governor did not elaborate further on the ins and outs of the proposal and how, exactly, it would work but The New York Times, citing the governor's office, reported that the relief would take the form of a tax rebate.
Newsom's senior adviser, Dee Dee Myers, told reporters the alleged rebate would likely be a "substantial amount of money" and would apply to individuals who are living in California and have a car.
The Epoch Times has contacted Newsom's office for comment.
Newsom's announcement comes after gas prices surged to their highest level since 2008 across the United States on Sunday, hitting over $4 per gallon on average across the nation, according to automotive service organization AAA.
California saw the highest increase, with gas prices averaging more than $5.28 per gallon of regular unleaded, according to data from AAA. That soaring price was followed closely behind by the states of Nevada, Hawaii, Washington state, and Oregon which all averaged more than $4.60 per gallon.
The climbing prices came after President Joe Biden announced energy sanctions on Russia in an effort to isolate the country in response to its invasion of neighboring Ukraine.
However, gas prices had already been rising across the United States and indeed the rest of the world due to inflation, levels of which are at their highest in 40 years, following the COVID-19 pandemic-related lockdowns and subsequent supply chain issues.
A month prior to the invasion in February, the Department of Labor said that gas prices had skyrocketed about 50 percent year-over-year. However, those increases have accelerated since the start of this year amid ongoing tensions between Russia and Ukraine.
Speaking of the rising gas prices while in Texas on Tuesday, Biden told reporters, "Can't do much right now … Russia is responsible."
Elsewhere during his address on Tuesday, Newsom stressed that "at a time when we've been heating and burning up, one thing we cannot do is repeat the mistakes of the past by embracing polluters," pointing to "drilling even more oil" which he said "only leads to even more extreme weather, more extreme drought, more wildfire."
"In the past few years, we've seen whole communities nearly wiped off the map," Newsom said. "We need to be fighting polluters—not bolstering them—and in the process of doing so freeing us once and for all from the grasp of petro-dictators."
Newsom previously proposed on Jan. 10 to suspend the state's annual gasoline and diesel tax increase for at least a year in an effort to help soften the blow to motorists who are already faced with rising prices for fuel.
However, that proposal has been met with resistance from other lawmakers including Assembly Speaker Anthony Rendon, who said at the time that the move could "potentially jeopardize a tremendous amount of jobs in the state," and "inhibit some economic growth in certain sectors in this state."
Original link : Newsom 'Looking at Proposals' to Put Money Back in Californians' Pockets Amid Soaring Fuel Prices