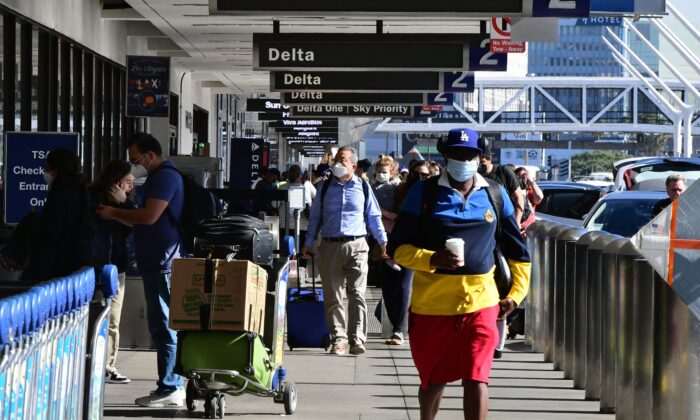 Air traffic is expected to be one of the busiest days of the year this Wednesday as a projected 20 million Americans scramble to visit their families, persistent to partake in this year's Thanksgiving after being locked down last year by the pandemic.
According to projections by the Transportation Security Administration (TSA), an average of 2 million people are expected to fly on a daily basis between Nov. 19 and Nov. 28, with some days considerably higher. TSA 2019 data shows that 26 million passengers screened for flights during the holidays.
Airline companies claim they are prepared to handle the rush and are looking forward to welcoming passengers.
"We're ready for it and excited about it," CEO of American Airlines Doug Parker told Fortune. "People are wanting to travel, wanting to go see family over the holiday or travel over the holiday." Parker said that it is going to be a busy travel season.
Airline companies have been giving their employees extended benefits and bonuses to retain them during the busy season. American and Southwest Airlines faced flight cancellations last month due to staff shortages and alleged adverse weather conditions.
United Airlines expects to resume flying at a rate of 88 percent of its 2019 level, predicted to transit more than 4.5 million passengers between Nov. 19 and Nov. 30, while Delta is preparing to fly around 5.6 million passengers.
Even as gasoline prices soar to new highs, auto club AAA expects up to 53.4 million to travel in total, in which 48.3 million will travel by road, at least 50 miles, during the holiday week. This will exceed 2020 levels by 4 million.
Meanwhile, the seven-day daily average of new COVID-19 cases have shot up almost 30 percent in the country, based on data from John Hopkins University. Nearly 200 million Americans are now fully vaccinated, which has allayed fears of some travelers regarding a resurgence due to holiday travels.
United States is now registering more than 92,000 new infections per day with more than 1,000 deaths daily from the virus, according to the U.S. Centers for Disease Control and Prevention.
According to travel booking app Hopper, the busiest airport on Thanksgiving weekend is expected to be the Hartsfield-Jackson Atlanta International, followed by Dallas/Fort Worth International Airport and Los Angeles International Airport.
Given the seasonal nature of the business, the average cost per day for hiring a rental car is up 66 percent compared to 2020, according to car rental website Kayak.
Pezou : Millions of Americans to Travel During Thanksgiving Holiday