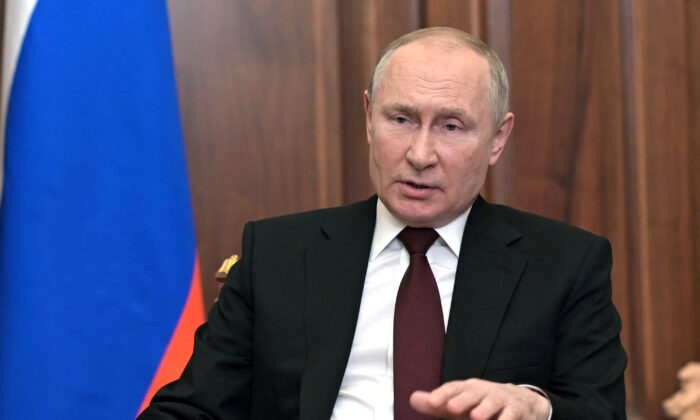 The latest on the Russia–Ukraine crisis, March 11. Click here for updates from March 10.
Russian President Vladimir Putin has ordered that so-called volunteer fighters should be brought into Ukraine.
Defense Minister Sergei Shoigu said Russia knew of "more than 16,000 applications" from countries in the Middle East, many of them from people who he said helped Russia against the ISIS terrorist group, according to a Kremlin transcript.
They want "to take part in what they consider a liberation movement," Shoigu said, on the side of Russia-backed separatist regions in eastern Ukraine.
Putin told Shoigu that Russia should help would-be volunteers to "move to the combat zone" and contrasted them with what he called foreign "mercenaries" fighting for Ukraine.
___
Russia Calls for UN Security Council Meeting Over 'Biological Activities' in Ukraine
Russia has called for a United Nations Security Council meeting to discuss alleged U.S. "military biological activities" in Ukraine.
Dmitry Polyanskiy, first deputy permanent representative of Russia to the United Nations, said in a Twitter post on March 10: "Russian Mission asked for a meeting of #SecurityCouncil for 11 March to discuss the military biological activities of the US on the territory of #Ukraine."
Reuters reported that diplomats have indicated the U.N. Security Council will convene on Friday, March 11, to discuss Moscow's claims of U.S. biological activities in Ukraine.
Late on March 9, the United States denied Russian accusations that Washington is running labs in Ukraine geared toward developing bioweapons.
Read the full article here 
____
Russian-Backed Separatists Capture Ukraine's Volnovakha: RIA
Russian-backed separatists have captured the Ukrainian city of Volnovakha north of the besieged Azov Sea port of Mariupol, the RIA news agency quoted Russia's defense ministry as saying on Friday.
Volnovakha is strategically important as the northern gateway to Mariupol.
___
Russia Says Military Airfields in Lutsk and Ivano-Frankivsk Taken Out: Agencies
Russian troops have launched a high-precision, long-range attack on two military airfields in the Ukrainian cities of Lutsk and Ivano-Frankivsk and taken them out of action, Russian news agencies quoted Russian Defence Ministry spokesman Igor Konashenkov as saying on Friday.
He also said that Russian forces had destroyed 3,213 Ukrainian military installations since the launch of what Russia calls a "special military operation" in Ukraine.
___
Air Strikes in Ukraine's Dnipro Kill One, Emergency Services Say
Three airstrikes early on Friday in Ukraine's central city of Dnipro killed at least one person, state emergency services said, adding that the strikes were close to a kindergarten and an apartment building.
The strikes came amid preparations by the United States, together with the Group of Seven nations and the European Union, to revoke Russia's "most favored nation" status over its invasion of Ukraine.
On Sunday, Ukraine had warned that Russia was mustering forces to encircle Dnipro, home to about one million people before the invasion started.
___
US Plans to Revoke Russia Favored Trade Status
President Joe Biden will announce Friday that, along with the European Union and the Group of Seven countries, the United States will move to revoke "most favored nation" trade status for Russia over its invasion of Ukraine.
That's according to a source familiar with the matter who spoke on the condition of anonymity to preview the announcement.
Biden's move comes as bipartisan pressure has been building in Washington to revoke what is formally known as "permanent normal trade relations" with Russia.
The move would allow the United States and allies to impose tariffs on Russian imports.
___
Russian Convoy Redeployed: Maxar
Satellite photos show that a massive Russian convoy that had been mired outside the Ukrainian capital since last week appeared to have dispersed.
Satellite imagery from Maxar Technologies showed the 40-mile (64-kilometer) line of vehicles, tanks, and artillery has broken up and been redeployed, with armored units seen in towns near the Antonov Airport north of the city. Some of the vehicles have moved into forests, Maxar reported.
The convoy had massed outside the city early last week, but its advance appeared to have stalled amid reports of food and fuel shortages. U.S. officials said Ukrainian troops also targeted the convoy with anti-tank missiles.

___
WHO Says It Advised Ukraine to Destroy Pathogens in Health Labs to Prevent Disease Spread
The World Health Organization advised Ukraine to destroy high-threat pathogens housed in the country's public health laboratories to prevent "any potential spills" that would spread disease among the population, the agency told Reuters on Thursday.
Biosecurity experts say Russia's movement of troops into Ukraine and bombardment of its cities have raised the risk of an escape of disease-causing pathogens, should any of those facilities be damaged.
Ukraine has public health laboratories researching how to mitigate the threats of dangerous diseases affecting both animals and humans including, most recently, COVID-19. Its labs have received support from the United States, the European Union, and the WHO.
In response to questions from Reuters about its work with Ukraine ahead of and during Russia's invasion, the WHO said in an email that it has collaborated with Ukrainian public health labs for several years to promote security practices that help prevent "accidental or deliberate release of pathogens."
"As part of this work, WHO has strongly recommended to the Ministry of Health in Ukraine and other responsible bodies to destroy high-threat pathogens to prevent any potential spills," the WHO, a United Nations agency, said.
The WHO would not say when it had made the recommendation nor did it provide specifics about the kinds of pathogens or toxins housed in Ukraine's laboratories. The agency also did not answer questions about whether its recommendations were followed.
Ukrainian officials in Kyiv and at their embassy in Washington did not respond to requests for comment.
___
Zelensky Says 100,000 Evacuated Amid Blockade
Ukrainian President Volodymyr Zelensky said 100,000 people have been evacuated during the past two days from seven cities under Russian blockade in the north and center of the country, including the Kyiv suburbs.
But he said the Russian refusal to allow evacuations from Mariupol, a port city in the south, was "outright terror."
"They have a clear order to hold Mariupol hostage, to mock it, to constantly bomb and shell it," Zelensky said in his nightly video address to the nation. He said the Russians began a tank attack right where there was supposed to be a humanitarian corridor.
The city of 430,000 has been without food supplies, running water, and electricity for 10 days. Ukrainian officials say about 1,300 people have died, including three in the bombing of a maternity and children's hospital on Wednesday.
Mimi Nguyen Ly and The Associated Press and Reuters contributed to this report.
Original link : LIVE UPDATES: Russia to Allow More Than 16,000 Middle East Volunteers to Fight Ukraine