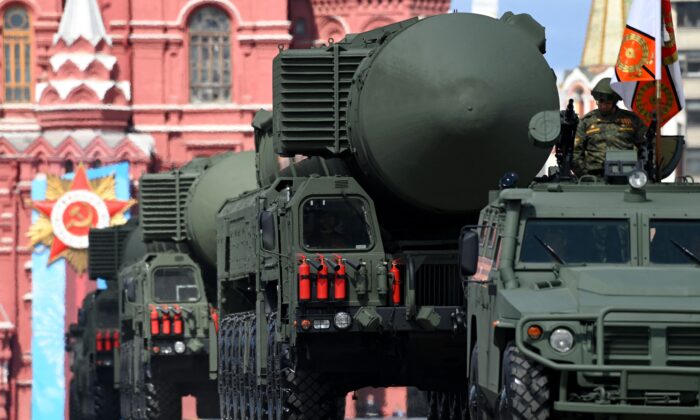 Russia's Foreign Minister Sergei Lavrov said Thursday he does not "want to believe" the conflict in Ukraine will spiral into a nuclear war, while claiming that the West had an unhealthy fixation with the issue.
Lavrov made the remarks at a press conference following Russia–Ukraine peace talks on the sidelines of a diplomatic summit in Antalya, Turkey.
The foreign policy chief was asked by a reporter whether he thought the conflict would become nuclear.
"I don't want to believe it, and I do not believe it," he replied.

Lavrov then said the nuclear escalation theme was being pushed by the West, which he accused of being obsessed with the prospect of a nuclear war.
"Of course it gives us cause for concern when the West, like Freud, keeps on returning and returning to this topic," he said.
The nuclear issue surged to the forefront when Russian President Vladimir Putin put his country's nuclear forces on high alert several days after ordering his troops to move against Ukraine.
Putin said the nuclear escalation was driven by hostile comments by leading members of NATO and by punishing Western sanctions, which he said were like a declaration of war.
"These sanctions that are being imposed are akin to a declaration of war but thank God it has not come to that," Putin said, speaking to a group of flight attendants at an Aeroflot training centre near Moscow on March 5.

The Russian president also issued an ominous warning that any attempts by other countries to impose a no-fly zone over Ukraine would have catastrophic consequences for Europe and the world, a comment many analysts and officials interpreted as a threat to take the conflict nuclear.
The nuclear question also grabbed headlines when Russian troops seized the biggest nuclear power plant in Europe after an attack that set an adjacent administrative building on fire, sparking fears of a nuclear disaster that would draft the one that took place in Chernobyl in 1986.
More recently, fighting between Russian and Ukrainian forces led to power cuts to the critical cooling system at the shuttered Chernobyl nuclear power plant, driving concerns that spent nuclear fuel might overheat.
In both cases, officials from the International Atomic Energy Agency later said there were critical impacts on safety and no radiation leaks.

U.S. Ambassador to Poland, Mark Brzezinski, was asked by a reporter from the Polish newspaper Rzeczpospolita in a recent interview whether he believed Putin might resort to a tactical nuclear strike if the war doesn't go his way.
Brzezinski said "all possibilities" were being taken into account by U.S. and NATO strategic planners, including that Putin might expand the war to other European countries and launch a tactical nuclear strike, while calling Putin's atomic threat "monstrously irresponsible."
Separately, U.S. intelligence officials said on March 8 that they were taking Putin's nuclear threats seriously.
"It was very unusual. And we obviously take it very seriously when he's signaling in this way," Director of National Intelligence Avril Haines told the House Intelligence Committee in Washington.
Original link : Lavrov Says He Doesn't 'Want to Believe' in Nuclear War Over Ukraine