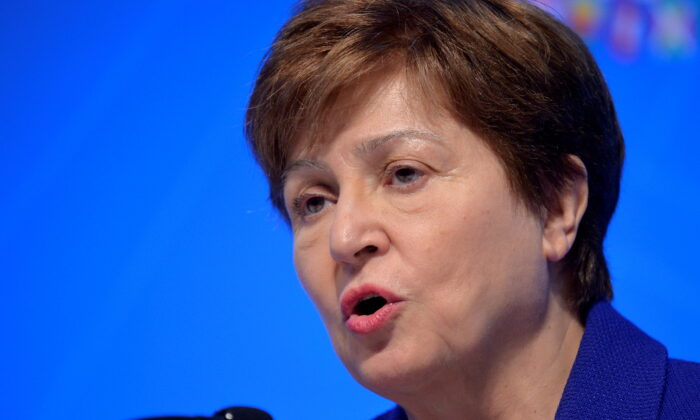 A Russian default on its sovereign debts is no longer an "improbable event" after Western sanctions, the head of the International Monetary Fund (IMF) Kristalina Georgieva said March 13.
"In terms of servicing debt obligations, I can say that no longer we think of Russian default as improbable event," Georgieva said on CBS's "Face the Nation."
"Russia has the money to service its debt, but cannot access it," Georgieva said, noting that sanctions imposed by the West against Russia have already had a "quite severe" impact on its economy.
"We expect a deep recession in Russia, and this abrupt contraction is affecting already how the Russian population is taking the heat on them. The ruble depreciated significantly. What does it mean? Real incomes have shrunk. Purchasing power of the Russian population has significantly diminished," the IMF chief said.
Russian Finance Minister Anton Siluanov told state-run media March 13 that around $300 billion of Russia's foreign exchange and holdings have been seized amid sanctions from Western nations including the United States, the European Union, the United Kingdom, and several other countries in response to Russia's invasion of Ukraine.
Those sanctions have targeted Russia's financial, energy, and transport sector, as well as its export controls and visa policy, banning products and freezing assets.
Following mounting pressure from lawmakers, President Joe Biden announced March 8 that the United States would suspend imports of Russian oil, halting about 500,000 barrels per day of new crude shipments from entering American seaports.
"We have a total amount of reserves of about $640 billion, about $300 billion of reserves are now in a state in which we cannot use them," Siluanov said of Russia's financial situation.
The Russian economy could see still more of an impact due to increased pressure from the West on China not to provide it with the financial help it needs, Siluanov added.


"We have part of our gold and foreign exchange reserves in the Chinese currency, in yuan. And we see what pressure is being exerted by Western countries on China in order to limit mutual trade with China. Of course, there is pressure to limit access to those reserves," he said.
Amid the strict sanctions, Moscow has threatened to repay international bondholders in rubles, something that Siluanov said was "absolutely fair."
Russia is scheduled to pay $117 million on two dollar-denominated bonds on March 16. However, if it does not pay, it will have a 30-day grace period to do so before it is technically in default.
Georgieva told CBS on Sunday that the IMF was concerned about the significant spillover effects that the war in Ukraine and consequent sanctions on Russia could have on neighboring countries who have strong trade relations with both Russia and Ukraine, as well as the rest of the world.
"What we are mostly concerned about are the immediate neighbors of Russia and Ukraine, the Central Asian republics, the Caucasus, Moldova," Georgieva said, adding that the organization was also worried about the increasingly large number of Ukrainians fleeing the conflict, "that is of the order of magnitude of what happened in the second world war."
Beyond both of the countries' immediate neighbors, Georgieva said the IMF is also concerned about rising inflation levels in countries that are yet to recover from the economic crisis bought on by the COVID-19 pandemic, and those which are dependent on energy imports from Russia.
However, when asked if a Russian default on its sovereign debts could set off a global financial crisis, Georgieva said, "For now, no."
"When you look at the total exposure of banks to Russia, it is about $120 billion. Not negligent, but definitely not systemically relevant. And to what we are also seeing is that while inevitably we are going to downgrade our growth projections for 2022, it is still going to be a positive growth rate."
Georgieva said March 10 that the IMF would downgrade its previous forecast for 4.4 percent global economic growth in 2022 due to the Russian–Ukrainian war.
This would be the first default on Russia's debt since 1998 when the country experienced a financial crisis.
Siluanov dismissed reports that the country might default on its payments this week, saying in a March 14 statement that "claims that Russia cannot fulfill its sovereign debt obligations are untrue," adding that the country has "the necessary funds to service our obligations."
Original link : IMF Chief: Russian Default on Sovereign Debts No Longer 'Improbable Event'