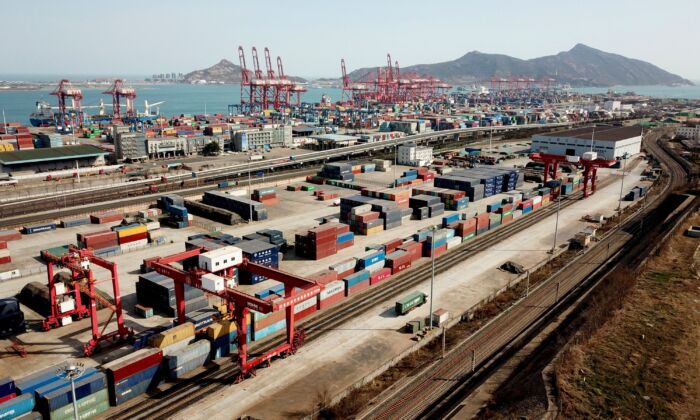 China's export growth slowed in the January-February period but was propped up a high trade volume with Russia amid the unfolding Ukraine crisis, official data showed on March 7.
The country's output rose 16.3 percent in January and February from a year earlier, beating analysts' expectations for a 15.0 percent raise, China Customs said on Monday. Its bilateral trade with Russia jumped 38.5 percent year-on-year—the highest rate for the first two months of the year since 2010—exceeding $26 billion, according to South China Morning Post.
Its exports to Russia rose by 41.5 percent in the first two months compared to the previous year to $12.6 billion, topping growth with other countries, while imports from Russia rose 35.8 percent, customs data showed.
China remains Russia's top trade partner over the past decade, yet the latest release comes as Russia's economy has been hammered under international sanctions over its attack on Ukraine late last month.
After developing close ties in recent years to align against the United States and its allies, Beijing and Moscow announced earlier last month a "no-limits" partnership and no "forbidden" areas of cooperation.
On the first day of Russia's invasion, China lifted all import restrictions on its wheat, which could undermine Western sanctions against the world's largest producer of wheat.
The invasion of Ukraine, however, also ramped up risks for the global economic outlook, including China.
A day earlier, the country set a 5.5 percent GDP growth target for this year, the lowest in decades. This year is also politically sensitive, with Chinese leader Xi Jinping looking to secure a precedent-breaking third leadership term in the autumn.
"We must make economic stability our top priority," Premier Li Keqiang said in Beijing during an annual work report on March 5. He said maintaining steady export growth is becoming harder, putting it down to a "volatile, grave, and uncertain" external environment, but sidestepped the crisis in eastern Europe.
China Customs also said on Monday imports increased 15.5 percent in the past two months, easing from a 19.5 percent gain in December and below the forecast 16.5 percent increase.
The regime agency publishes combined two-month trade data to smooth distortions caused by the Lunar New Year, which can fall in either month.
Factory activity normally slows considerably during the long holiday as workers return to their home towns. But for the third year in a row, many factory workers did not return because of concerns about COVID-19, meaning some factories could keep operating.
Reuters contributed to this report.
Original link : China, Russia Trade Surges Amid Ukraine War