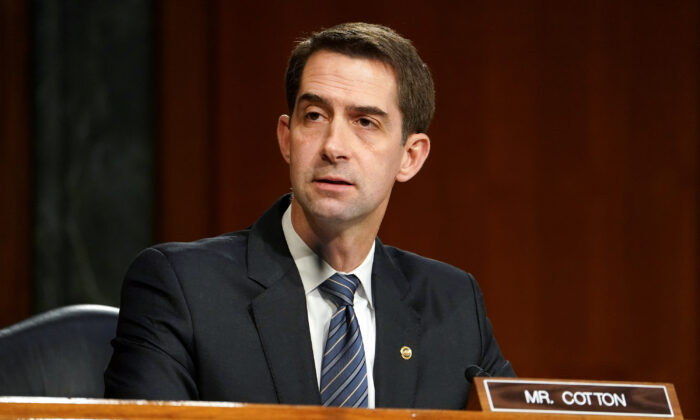 Sen. Tom Cotton (R-Ark.) warned that Taiwan could be the next democracy invaded if the United States doesn't make Russian President Vladimir Putin pay for his "unprovoked, naked war of aggression" against Ukraine.
"Just as Putin watched Joe Biden's shameful retreat in Afghanistan, so now is China watching us today," Cotton said during a speech at the Ronald Reagan Presidential Library in California on March 7.
"If we fail to impose the steepest price for Russia's invasion, not only will Ukraine become a new captive nation, but soon Taiwan will also find itself in the crosshairs," Cotton said. "If Joe Biden won't make him pay, then the Republican Party must."
Russia's invasion of Ukraine has fueled speculation about the fate of Taiwan, and whether the Chinese Communist Party (CCP) will be emboldened and invade the self-governing island soon.
Driving the speculation is that China might have Russia's support, if not militarily but at least politically, if Beijing does choose to invade Taiwan, considering how the communist regime has responded since the war in Ukraine began. So far, Beijing has refused to denounce Russia over its aggression, sided with Russian rhetoric and not called the attack an invasion, and abstained twice in United Nations votes.
Moscow has chosen to side with China over Taiwan's sovereignty. In a joint statement released on Feb. 4 following a meeting between Putin and Chinese leader Xi Jinping, Moscow said "Taiwan is an inalienable part of China" and it "opposes any forms of independence of Taiwan."
The statement also set the terms of the current Sino–Russian alliance, with a "no-limits" partnership and "no 'forbidden' areas of cooperation."
The Chinese regime reiterated its desire to take over Taiwan on Monday, when Chinese Foreign Minister Wang Yi said Taiwan "will eventually return to the embrace of the motherland." He also rejected comparisons between Taiwan and Ukraine, saying the former is "China's internal affair" while the Ukraine crisis is "a contention between two countries."
Wang also accused the United States of trying to form an Indo–Pacific NATO, echoing a key justification for Russia's invasion.
"Now China is our most dangerous enemy," Cotton said. "The Chinese Communist Party has committed every economic crime in the book—product dumping, intellectual property theft, illegal subsidies, economic espionage, currency manipulation, even using slave labor."
He said the U.S. decision to grant China permanent most-favored-nation (MFN) status was the "single worst mistake of this generation." The status got a new name in 1998, becoming known as the permanent normal trade relations.
Former President Bill Clinton signed into law the U.S.–China Relations Act of 2000, giving China its MFN designation while paving the way for Beijing's accession to the World Trade Organization. The designation opened the U.S. market to Chinese products with trade advantages such as reduced tariffs.
"Many states like mine have lost a quarter of their manufacturing jobs. factories closed, families splintered, and opportunities crumbled," the lawmaker said. "It's time to end our economic reliance on China."
Last year, Cotton and other Republican senators introduced legislation that would strip China of its trade status, in an effort to hold China accountable for its economic aggression and human rights abuses. Cotton introduced a similar bill in 2020.
"It's time to decouple our supply chains. But decoupling is not enough," Cotton added. "We ought to ban U.S. investment in strategic Chinese industries, and encourage reshoring of U.S. factories and jobs, and punish offshoring to China."
In February 2021, Cotton released a report compiled by his office, laying out a strategy for the decoupling of U.S. and Chinese sectors. Those areas include artificial intelligence, critical minerals, entertainment, higher education, investment, medicine and medical equipment, telecommunications, and semiconductors.
"We are the party that tore down the walls of Russian communism and that will send Chinese communism to the ash heap of history," Cotton concluded.
Hours before Cotton delivered his speech, the Ronald Reagan Presidential Foundation and Institute announced it had awarded its prestigious Ronald Reagan Freedom Award to Ukrainian President Volodymyr Zelensky for his "courageous fight against tyranny and for his indomitable stance for freedom and democracy." 
Original link : Senator Says US Weakness Against Russia Will Put Taiwan in Harm's Way