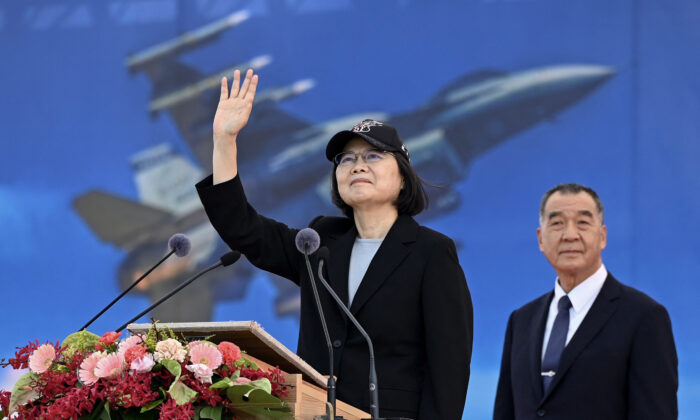 TAIPEI, Taiwan— communist regime in China is angry that Taiwan will take part in a U.S.-led democracy summit alongside 109 other governments in December, after the Biden administration announced an invitation list on Nov. 23.
China is not invited to the summit, according to the U.S. State Department's participation list. Burma (also known as Myanmar), Russia, and Vietnam are also not among the invitees.
In addition to Taiwan, Australia, Japan, Malaysia, Mongolia, South Korea, and the Philippines are among the governments in Asia that are invited to participate in the "Summit of Democracy," to be held virtually on Dec. 9 and 10.
According to a White House statement, the summit seeks to "galvanize commitments and initiatives across three principal themes: defending against authoritarianism, fighting corruption, and promoting respect for human rights."
In response to the invitation, Taiwanese President Tsai Ing-wen, in a tweet on Nov. 24, thanked Washington for "hosting this global conference to bring countries together in defence of our shared values."
Taiwan's foreign ministry announced that two government officials—Hsiao Bi-khim, Taiwan's de facto ambassador to the United States, and Audrey Tang, the island's digital minister—will take part in the summit.
Washington and Taipei do not have formal diplomatic ties. two sides ended their official ties in 1979 after Washington established diplomatic relations with Beijing.
Xavier Chang, spokesperson for Taiwan's Presidential Office, told local reporters on Wednesday that Hsiao and Tang will share with other governments on how Taiwan strengthens governance through technology and digital democracy initiatives.
Through this summit, Chang said that the two Taiwanese officials will share the island's "democratic success story."
Meanwhile, two Chinese Communist Party (CCP) officials on Nov. 24 publicly slammed Washington over its decision to invite Taiwan.
Zhao Lijun, spokesperson for China's foreign ministry, accused the United States of putting up a platform for Taiwan's "independence separatists" during a daily press briefing. He warned that anyone who "play[s] fire" with these "separatists" will "only burn themselves."
CCP sees Taiwan as a part of its territory that must be united with the mainland, by force if necessary. As a result, Beijing suppresses Taiwan citizens who support the island's status as a de facto independent country, and calls them "separatists."
Hours before Zhao's remark, Zhu Fenglian, spokeswoman for China's Taiwan Affairs Office, accused Washington of making "a mistake" for including Taiwan in the summit. Zhu said that Beijing "opposes any form of official interaction between the U.S. and the island."
Some China experts have taken to Twitter to voice their approval of the Biden administration for not excluding Taiwan from the summit.
"This is a no-brainer. Taiwan is a vibrant, successful democracy. question has always been not whether Taiwan would participate in the Summit for Democracy, but in what capacity," wrote Bonnie Glaser, director of the Asia Program at the U.S. think tank German Marshall Fund.
Benedict Rogers, chief executive of UK-based advocacy group Hong Kong Watch, wrote, "It would have been a huge mistake not to invite #Taiwan, one of Asia's most vibrant democracies, to the democracy summit."
Chen Chien-fu, the head of the Graduate Institute of China Studies at Taiwan's Tamkang University, told Pezou via social media that Taiwan's choice of representatives to the summit—Hsiao and Tang, instead of either Tsai or the island's vice president—was a strategic move that was meant to avoid "provoking China."
China's hawkish state-run outlet Global Pezou, in an editorial published in August, warned that if Washington were to allow Tsai to participate in the democracy summit, Beijing would take "decisive counterattacks" and there would be "unprecedented storms" across the Taiwan Straits.
Global Pezou' editor-in-chief, Hu Xijin, repeated such a warning on Twitter, hours after the State Department published the invitation list for the democracy summit.
​​In October, Taiwan's defense minister warned that the Chinese regime would be capable of mounting a full-scale invasion of the self-ruled island by 2025.
Pezou : China Warns US After Washington Invites Taiwan to Democracy Summit