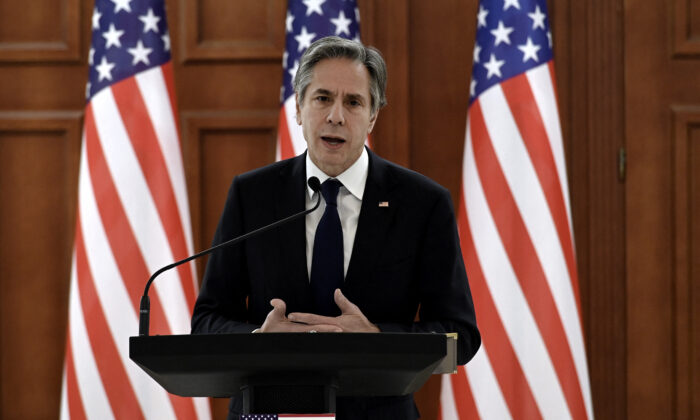 U.S. Secretary of State Antony Blinken said on March 6 that China has failed to live up to its own words about the "sanctity" of national sovereignty by not speaking up against Russia's invasion of Ukraine.
"China speaks often about the sanctity of this principle of sovereignty," Blinken told CNN in an interview from Moldova on Sunday. "And so we would expect China, based on everything it's said in the past, to stand up and make its voice heard."
For years, the Chinese communist regime has preached about the "sanctity" and "sacredness" of its territory in order to fend off international criticisms of its policies in Hong Kong, Tibet, and Xinjiang. Beijing uses the same rhetoric to justify its territorial claim over Taiwan, a de facto independent entity with its own liberal democratic government.
Officially, China has positioned itself as neutral in the war, saying it respects Ukraine's sovereignty while recognizing what the communist regime describes as "legitimate security concerns" of Russia.
In reality, however, Beijing has taken a pro-Kremlin stance by refusing to condemn Russia's military aggression or calling Russia's actions an invasion. On Feb. 25, China abstained from voting on a U.N. Security Council resolution demanding that Moscow stop its attack on Ukraine and withdraw its troops immediately.
On March 2, China again abstained from voting on a U.N. General Assembly resolution aimed at denouncing Russia over its Ukraine invasion and calling on Moscow to immediately withdraw its forces. The resolution was adopted with 141 of the 193 member states voting in favor.
"141 countries in the U.N. system came forward to condemn Russia's aggression against Ukraine and to stand up for Ukraine," Blinken said. "So we are looking to China to make its voice heard. That voice counts, and I hope that they'll do that."
Blinken's remarks reflect Washington's increased frustration over Beijing's refusal to be more vocal against Russia's invasion. Just one day earlier, Bliken put pressure on Chinese Foreign Minister Yi in a phone call, telling the Chinese diplomat that "the world is watching to see which nations stand up for the basic principles of freedom, self-determination, and sovereignty."
There is already a sign that China is not going to work with the western coalition anytime soon. China's hawkish state-run media Global Times, in an opinion article published on March 6, said the West should "change their attitude toward Russia" before China could mediate over a ceasefire.
The article also took a jab at the United States and the European Union, saying that the two have "nearly used up their 'sanction cards'" on Russia. It then said: "They want to have China by their side but they must be aware that it is impossible."
Over 1.53 million refugees from Ukraine have crossed into neighboring countries as of March 5, according to data from the U.N. Human Rights Council. At least 364 civilians have also been killed since the start of the Russian invasion on Feb. 24.
Ukrainian foreign minister Dmytro Kuleba said over the weekend that he believes Beijing "has sufficient tools" to end Russia's invasion, given the Chinese regime and Moscow "enjoys a special relationship."
Russia and China declared their partnership had "no limits" on Feb. 4, after a meeting between Russian President Vladimir Putin and Chinese leader Xi Jinping. The meeting culminated in a 5,000-word joint statement, in which the two leaders said there would be "no 'forbidden' areas of cooperation" between their nations.
Original link : China Needs to 'Stand Up and Make Its Voice Heard' on Ukraine Crisis: Blinken