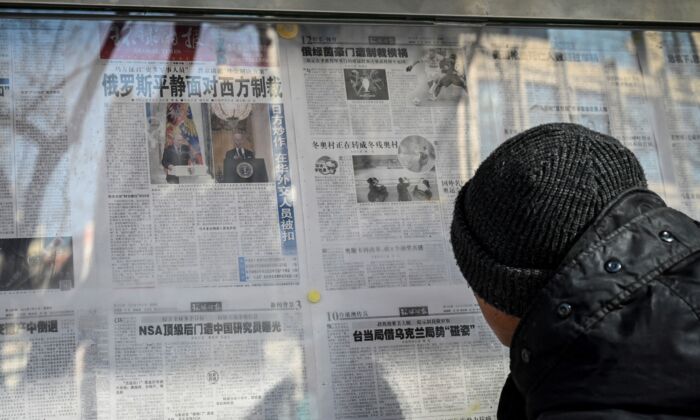 After Chinese students escape Ukraine, they still face difficulties in getting home. Although Beijing arranged for airplanes to pick them up, they said the ticket price wasn't affordable and each person's departure date was unknown.
In addition to paying for the airline ticket, the regime expects the students to cover the cost of the quarantine after they arrive in China, which might be anywhere from 4,000 yuan ($635) to over 10,000 yuan ($1,590) and last for 14 or 21 days, according to the city they land in and the hotel they stay at.
For those able to pay the high costs, the students can't choose which flight they take. They have to wait and follow the Chinese embassy's arrangements. "The embassy arranged region by region … We don't know when is our turn," Chinese student Qin Xiaoqiang (pseudonym) told the Chinese-language Epoch Times on March 5.
Without a valid visa, the fleeing students are only allowed to stay in a host country for 15 days, and will become illegal immigrants if they don't take the flight arranged by the Chinese regime.
"The issue we must solve now is to find somewhere to stay legally," Qin said. "We are searching to apply for a nearby country's visa."

Qin arrived in Bucharest, Romania on March 4 from Kyiv, Ukraine. He said that he didn't ask for a free evacuation, but wanted it to at least be affordable.
"[My family] spent over 200,000 yuan ($32,000) to send me to Ukraine to study. Now, I haven't finished my studies," Qin said. "I don't have money, and I want to finish my studies."
Expensive Evacuation
On March 4, a group of Chinese students in Bucharest who escaped Ukraine published a public petition letter to the Chinese embassy, in which they asked the embassy to arrange a free flight to bring them home, or find somewhere in Romania that they can stay until the end of the Russia-Ukraine war.
"On the afternoon of March 3, we received the notification that we need to pay for the evacuation flight to go back to China and quarantine costs in China's hotels. The price of the flight ticket is 17,999 yuan ($2,850)," the students wrote. "The quarantine period and cost aren't clear."
The students said they were relying on their families' support for the tuition and studying costs, and they didn't have enough money to pay for the flight ticket.
The Chinese embassy in Ukraine responded on the evening of March 4 that the fights were arranged by the Chinese commercial airlines, and the regime wouldn't cover the cost.
The Epoch Times called the embassy on March 5, and the staff member that answered the phone confirmed the March 4 statement and claimed: "The flights aren't charter flights … the price is a reasonable one in Romania."
The staff said that the embassy had no solution to the students' requests and that the students should find their own ways to get home.
Due to the Chinese regime's COVID-19 policy, there are few international flights allowed to enter China every day, and no direct flights from Bucharest to Chinese cities operating regularly. The price of a ticket, with transit in other cities, was about $1,400 on March 6.
Chinese in Ukraine
On March 6, Chinese people stranded in Ukraine posted videos on social media to report their situations and let people know they were safe.
Software programmer Wang Jixian from Beijing talked about his life in Odesa, a Ukrainian city where people still have a relatively peaceful life. "I'm still alive," Wang announced on March 6.
"We are human beings, and we want to survive. We don't want any war," Wang frequently repeated in his video. He criticized Russian President Vladimir Putin every day and said that Russian soldiers had to fire on Ukrainian people because of Putin's orders although the soldiers didn't want to do so.
Wang posted videos about twice a day. On March 1, he said that he called the Chinese embassy in Ukraine for help, but was asked to cross the war zone by himself to meet with the embassy's team in the safe area. "If I can cross the war zone, I won't need your help," Wang said. He then decided to stay home and wait for the end of the war.

On March 6, a Chinese student surnamed Zhao reported on social media platforms that he finally arrived at Odesa in southwest Ukraine safely.
Zhao studied in Kharkiv, a city close to Russia, and is on the way from the Russia-Ukraine border to Kyiv. Zhao said: "Kharkiv is almost blown up by the Russian troops."
Zhao posted videos several times a day recently. He said that he survived by receiving food, shelter, and encouragement from local Ukrainian people in Kharkiv.
He said on Feb. 27: "I want to say something politically incorrect. Over 500 students lived in this dorm building. Other states evacuated their students before Feb. 24. Students from African countries fled by themselves on Feb. 24 and 25." Zhao said he was waiting for the Chinese embassy to evacuate him.
However, Zhao wasn't contacted by the embassy.
On March 3, he decided to flee on the free trains the Ukrainian government set up to evacuate people. From March 3 to March 6, Zhao kept posting videos that recorded how Ukrainian soldiers and civilians took care of him as he fled.
It's unclear how many Chinese citizens are still in Ukraine on March 6 and how many of them want to flee.
At the end of day on March 6, China's airlines had completed four flights to pick up Chinese in Romania. But the regime didn't announce how many people were on the planes.
Original link : After Escaping Ukraine, Chinese Students Still Face Difficulties in Getting Home